New Product: Headband Wig
With the outbreak of the epidemic in 2020, the price and demand of frontals and closures have increased and they get scarce. So accompanied by the emergence of a new style it is called headband wig. Although it appears only for several months, it's very popular among people in the world. It's a new-born wig. It's cheap and it's easy to wear, convenient and also fashionable. A lot of web celebrities are buying it, so it's worth trying.
Have you ever heard about headband wig? Let me introduce this new product to you.

What is Headband Wig?
Headband wig is a new product released in 2020. It is cheap and easy to wear. It has ice silk band but it doesn't have the lace. The material of the ice silk band is very comfortable and skin-friendly. The end of the ice wire is velcro, which acts as a fixing device in the back. When you wear it, you do not need to use glue and any other hair products. You can choose various and beautiful headband to match it. The suitable hairband can cover up the black ice silk band and it can also complement your outfit! The following is the picture for head band wig.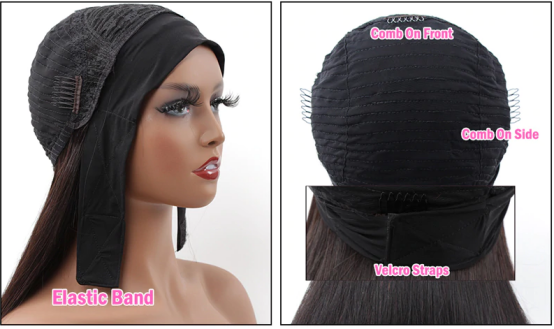 Benefits Of Headband Wig
The Price is Competitive
The price of headband wig is not too high, definitely lower than the price of ordinary lace wigs. Headband wig is new for people this year and the price won't be too expensive commonly, otherwise it's hard to have good sales. In addition, its production process is relatively simple so the production cost will not be too high. It has no lace and does not require a worker to hook it. For lace wigs, it usually takes a worker a day or two days to complete them. Wearing headband wigs saves labor costs and time on hand-hooks.
It's Simple To Operate
Wearing headband wig doesn't need complex steps like wearing a lace wig (gluing, shaping, and if you are new to lace wigs, you even need to ask a professional barber to help you). But this headband wig has an ice silk band, which is an elastic and flexible band that you can adjust to hold your hair in place. At the same time, whenever and wherever you don't want to wear it, you can just take it off easily and put it away. You can take it off at night and when you get up you can wear it simply for a few seconds. It's very convenient and simple. What's more, when lace wig is removed, the operation is also a waste of time. Comparatively speaking, wearing a headband wig is more convenient and helpful.
New
People are usually interested in new things. A lot of people are more willing to try new styles. This year's new-born headband wigs will certainly draw people's attention. In the past, lace wigs were the most popular product, but there were some people who were bored with the constant use of glue. The shortage of lace in the wig industry in 2020 gives headband wigs an opportunity! it is new enough and you never saw before.
Friendly to All Head Sizes
As mentioned above, headband wig has an adjustable ice silk band, so the wig size is adjustable and flexible. Generally it works for all head sizes. For the women with a big head, you can loosen ice silk band appropriately a bit. For small head women, it can be tight into your favor. In short, it can be adjusted according to the size of your head and your personal reference.So there is no need to worry about the size problem.
Sensitive Skin is Friendly
The reason why it's better for sensitive skin is that it doesn't need to apply or spray some hair products on wigs. These products are just bad for your skin (such as hair spray, glue, powder, etc.). Use them for a long time is harmful to people with sensitive skin. But headband wig solves this problem that confuses women with sensitive skin for a long time. It won't damage your skin, making it more comfortable and relaxing to wear.
For Recommendation
The two below are our main recommendations, we also have other different textures available on our website, you can also choose the wig according to your own preferences.
Kinky Straight HeadbandWig
Headband kinky straight hair, if you don't look closely, you might mistake for straight hair, but it's not. It is a little curler than straight hair. I'm sure you're familiar with this curl. Yes, kinky straight imitates the effect of naturally curly hair when it's straightened. Headband kinky straight hair you can match a beautiful headband,  it will make you look more energetic and charming ,what's more important, it looks as natural as your own hair.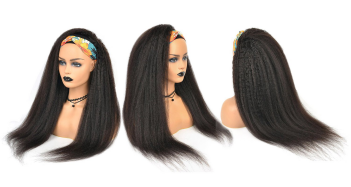 2.Kinky Curly Headband Wig
Yes, for headband wigs, we recommend the kinky straight and kinky curly for a more natural style. The curvature of kinky curly is similar to the curvature of 3C's, which is closer to the natural growth of raw hair and looks natural without any offense.This type of wig will be curler and look more fluffy than the first one. It's stylish and suitable for women in every ages. It shows your maturity and charm. Of course, this hairstyle also looks very energetic. So it is also a good choice for people who like natural hair style.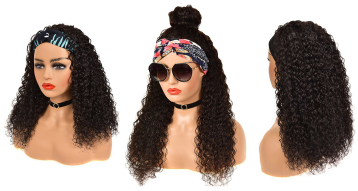 ---